Reserve your seat on our journey to the ISS! Via this open call, we invite art projects and artifacts to reach the final frontier of human habitat and mark the historical meeting point of the Moon Gallery and the cosmos. 
As our next milestone, we go to the International Space Station. This flight will take the gallery on its long-hoped-for journey to space. The gallery will fly closer to its ultimate home – the Moon – to soon serve its final purpose. That is becoming the seed of a new interplanetary culture. 
Reaching low Earth orbit on our way to the Moon is the first step in extending our cultural dialogue to space. For this mission, we are collecting art pieces that carry important values for humanity not only at this point on Earth but also for a future multi planetary society. 
The final 81 artworks to be exhibited at the International Space Station will be the "pioneers" of the Moon Gallery; the first pieces to undergo the extreme space environment and to channel our values into the universe. This special moment and the exhibition will be documented for the whole world to see. For this reason, we ask artists to create fascinating pieces from every possible angle.  
The Moon Gallery artistic payload will have an important experimental value; the effects of radiation and partial gravity will be examined for the full duration of this journey. In partnership with Nanoracks, we will provide technical support to evaluate the safety of the payload materials.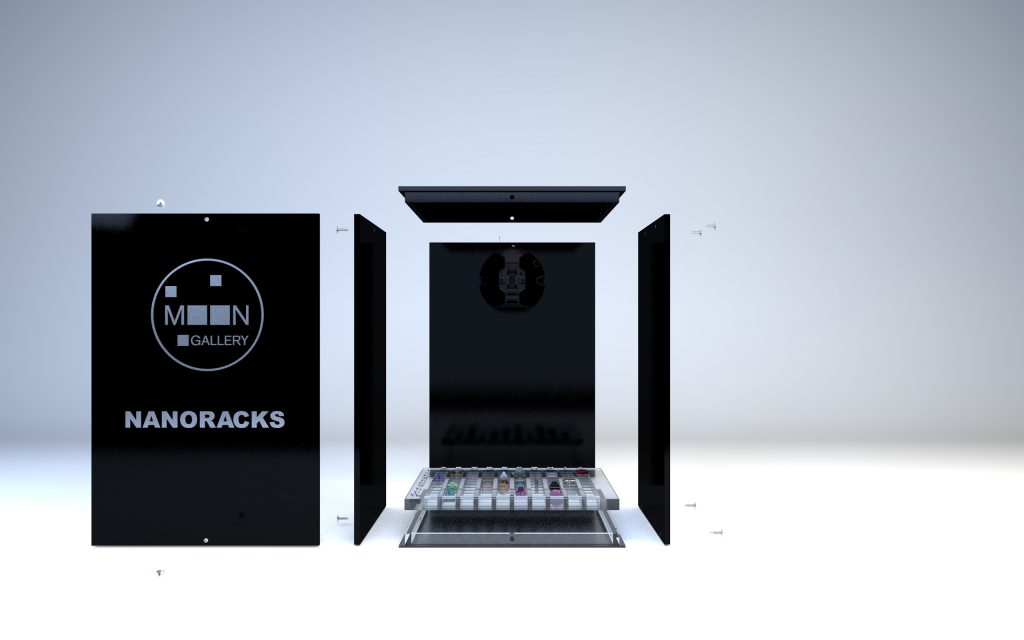 The format requirement remains unchanged; the final art piece has to fit into one cubic centimeter space travel casing. A selection of 64 artworks will be integrated into a 8 x 8 x 1 cm grid to fly to the ISS aboard NG-17 within the framework of a Northrop Grumman Cygnus resupply mission in February of 2022. The Moon Gallery exhibition will stay at ISS to dazzle its very first audience in space. After the exhibition, the gallery will be safely returned to Earth to prepare it for the next adventure. 
We are excited to see your creations and welcome new pieces to the Moon Gallery. If you have any questions, please feel free to contact us.